Facts and History of Golden Gate Bridge
Golden Gate Bridge is a suspension bridge across the place the where San Francisco Bay opens into the Pacific Ocean, so-called Golden Gate (hence the name). It connects San Francisco with Marin County and it is 2737 meters long and 227 meters high. Some 45 million of vehicles cross Golden Gate Bridge in a year. Golden Gate Bridge is one of the landmarks of San Francisco and, until 1964, it was a bridge with longest suspension bridge main span in the world.
Before Golden Gate Bridge was built, the shortest route between San Francisco and the Marin County was by ship. First ferry service was established in 1820. In time automobile ferries, which were once used only by costumers of the railroad, became very profitable and San Francisco became largest city in United States largely supplied by ferries. Because the ferries didn't provide constant connection with the nearby regions, the city's growth began to drop.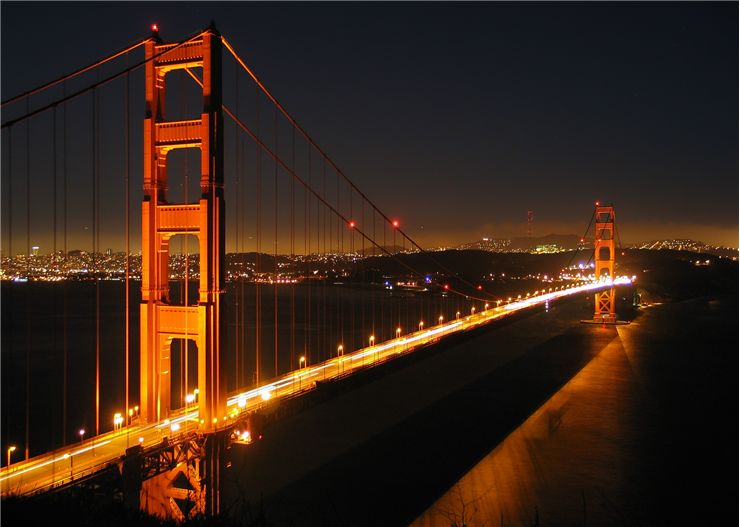 Then appeared the idea of the bridge that would span the Golden Gate and give San Francisco much-needed link. In 1916, James Wilkins wrote an article in San Francisco Bulletin that estimated cost of building a bridge across Golden Gate is $100 million and asked a question whether it could be done for less. One Joseph Strauss responded with the idea that cantilever bridge could be made for $17 million. Local authorities agreed to expand on the idea but only if design is changed to suspension bridge and if Strauss cooperates with other designers and engineers because of his low experience with jobs of such type and magnitude. Designer Leon Moisseiff and Senior engineer Charles Alton Ellis were joined to the project on the general engineering while Irving Morrow designed look of towers, lightning and Art Deco details of the bridge. Construction of the bridge started in 1933 and ended in 1937. It is not known how many workers worked on the bridge but it was built by some 10 prime contractors, it cost some $35 million, it was finished before the schedule and $1.3 million under budget. Deck has a weight of 1500.000 tonnes and cables that hold it are 90cm thick and made from 130.000 kilometers of wire.
When it was opened on May 27, 1937, opening celebrations lasted a week. The day before bridge was opened for vehicles some 200.000 pedestrian crossed it by foot. For a 50th anniversary, bridge was close again and pedestrians were allowed on it. But this time some 1.000.000 people gathered and caused the middle of the bridge to flatten out. Because of that pedestrian walk was not allowed for a 75th anniversary.
Golden Gate Bridge is considered one of the most beautiful bridges in the world and is a true feat of engineering of its time. It was built on a fault line that presents constant danger of earthquakes. Strong winds from Pacific can sway the bridge but it is built so it can swing sideways 8 meters and withstand blows of wind that are up to 160 km/h.