Facts and History of Great Belt Bridge
Great Belt Bridge (or Great Belt Fixed Link) is a traffic connection between Danish islands Zealand and Funen. Great Belt Fixed Link is made of suspension bridge and railroad tunnel that connects Zealand with island Sprogø and a box girder bridge that connects Sprogø with Funen. Great Belt Fixed Link is designed by Dissing+Weitling. Term "Great Belt Bridge" can refer to suspension bridge or box girder bridge or whole fixed link together.
Traffic between Zealand and Funen was done with ferries since 1883. It connected railway lines on both sides of the Belt. Ideas for a fixed link existed since 1850s. First plan for a bridge gave "Danish State Railways" in 1934. Ministry of Public Works found a commission to more closely examine idea of a fixed link. In 1973, was brought first law concerning the fixed link but in 1978 it was postponed because of political differences. In 1986, political agreement was achieved and new law was passed that gave green light for a project to start. Design was made by Dissing+Weitling in collaboration with engineering firm COWI.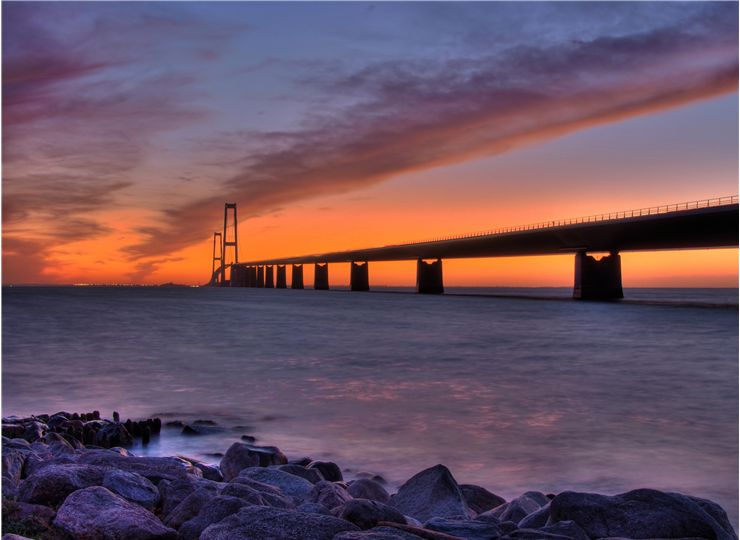 General idea of the Great Belt Fixed Link was to connect Halsskov on Zealand with Knudshoved on Funen with four-track motorway and two-track railway using small island of Sprogø in the middle. That was solved by using tree parts of the link Eastern Bridge for road traffic, Eastern Tunnel for rail and Western Bridge for road and bridge together.
East Bridge was built between 1991 and 1998. It is a suspension bridge for road transport between Halsskov and Sprogø, with length of 6,790 metres, width of 31 metres and longest span of 1,624 metres which makes it third-longest suspension bridge span. Two pylons have height of 254 meters which makes them highest points on solid structures in Denmark.
West Bridge was built between 1988 and 1994. It is box girder bridge for road and rail transport between Sprogø and Knudshoved. It has length of 6,611 meters, vertical clearance for ships of 18 meters and is made of two connected bridges of which one carries road transport and the other rail transport.
East tunnel for rail traffic was planned to be open in 1993 but because of delays it started with work in 1997. Tunnel is twin-bored in length of 8.024 metres and it has 31 connecting tunnels between that are used for installations and as emergency escapes. One of the tunnels was flooded in the process and when it fill it started filling the other tunnel which damaged two of four tunnel boring machines. Fire on machines and a difficult ground also slowed down the progress.
Before the link was opened, some 8.000 cars used ferries daily to cross the Great Belt. After the link was finished 30.200 cars used link every day. Before the link, car could cross the Great belt in 90 minutes by using the ferry and if we include the time for waiting at the port. It took even longer if it was a weekend or a holyday. With link, car can now make journey in ten to fifteen minutes. Same with train.