Facts and History of Ponte Vecchio
Ponte Vecchio is closed-spandrel segmental arch bridge in Florence, Italy. It spans Arno River, it is made of stone and it is placed at the location where Romans built first bridge in Florence before 994 AD when it was mentioned for the first time.
Flood destroyed the bridge for the first time in 1117 and after reconstruction again in 1333 only for it to be rebuilt in today's shape in 1345. It is not known who is the designer of today's bridge but it is believed that it is Taddeo Gaddi or Neri di Fioravanti.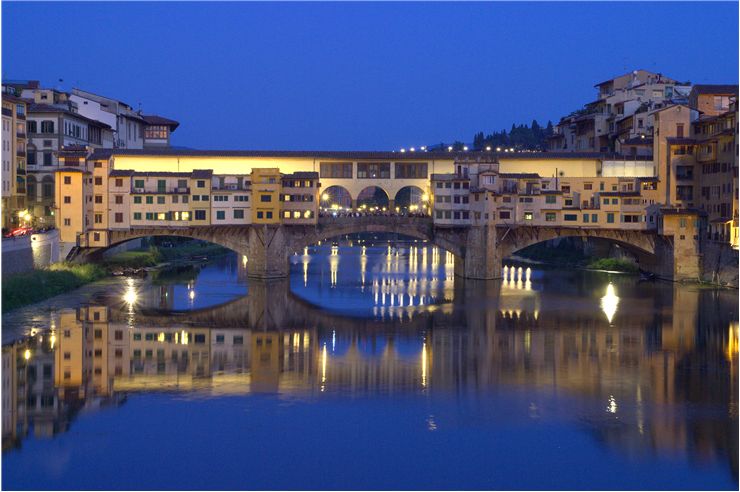 Because of its age it is called Ponte Vecchio which means "Old Bridge". One of its characteristics are shops that are placed on the both sides of the bridge in Medieval style. They are there since the beginning and were first populated with butcher shops and tanners but in 1593 duke Ferdinand I decided to allow only goldsmiths and jewelers to hold shops on Ponte Vecchio because former tenants produced too much garbage and foul smells. In 16th century Cosimo I de' Medici ordered that a corridor is built above Ponte Vecchio, so-called "Vasari Corridor" after a Giorgio Vasari who built it. Its purpose was to connect Palazzo Vecchio with Palazzo Pitti. At the end of World War II, While Germans retreated from North Africa through Italy, Ponte Vecchio was only bridge in Florence that Germans did not destroy (it is said that bridge was spared by personal order from Hitler). They just closed it by destroying nearby buildings on both ends of the bridge, which were reconstructed at the end of the war. In 1966, another great flood threatened to destroy the bridge. It severely damaged it but Ponte Vecchio resisted and it is standing today and it is still beloved by the tourists.
In recent history a tradition appeared that if lovers attach a padlock somewhere on the Ponte Vecchio and then throw away the key in water, their love will last forever. It is believed that "tradition" is an idea of a local locksmith as a means to increase sales although it is known to be practiced in Russia and Asia. In time, large number of padlocks began to damage the structure of a bridge so the government decided to remove many of the padlock and place a law that charged penalty of 50€ for anyone caught locking anything to the bridge.