Facts and History of Rialto Bridge
Rialto Bridge (Ponte di Rialto) is a stone arch bridge over a Grand Canal in Venice, Italy. It is the oldest bridge in Venice and still in use.
First bridge on that place was Ponte della Moneta, named for mint that grew at one of its entrances. It was built in 1181 and it was a pontoon bridge built on ships and designed by Nicolò Barattieri. Pontoon bridge was replaced in 1255 with a wooden bridge because nearby Realto market increased traffic over it. That bridge had two ramps on each side and a movable platform in the middle that could be raised to allow passing of the ships underneath the bridge. It also had two rows of shops built whose renting and taxes helped maintain the bridge in working order. Because it was close to Realto market, in time it changed the name into Realto Bridge. Maintenance of the bridge was a problem because of the material that was used for its construction.
During the revolt led by Bajamonte Tiepolo in 1310 the bridge was damaged by fire and it collapsed first time in 1444 under the weight of crowd that gathered to watch boat parade in celebration of wedding of the marquis Ferrara. It was rebuilt as a drawbridge but it collapsed once again in 1524. After that it was decided to rebuild the bridge in stone.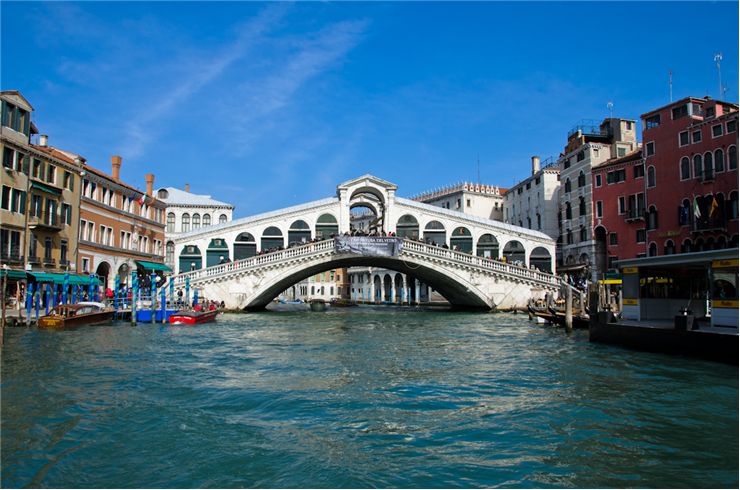 When, in 1551, authorities requested ideas for design of the stone bridge on the same place, some of the most famous architects of that time answered the call with their ideas. Some of the architects that applied were Vignola, Palladio and even Michelangelo. Problem with their ideas was that they all designed bridges with several arches, which would hinder the river traffic so they were all rejected. Single span design by Antonio da Ponte, Swiss-born Venetian architect and engineer, was approved and construction began in 1588. It lasted until 1591. The bridge that stands today still, was designed like the bridge from 1255. It has two inclined ramps with stairs that lead to central portico, has shops on both sides and three walkways. Single span allows for easy passing of ships. Although doubted that it would last because of its brave design Rialto Bridge stands the test of time and is still one of the main attractions of Venice.